High Quality & Spacious Lodging with the Best Activities for Your Morzine Vacation
Morzine Accommodation – Self Catered Apartments
Morzine accommodation – These spacious self catering apartments are beautifully decorated giving each apartment a truly home from home ambiance. Local architecture features strongly, such as high vaulted ceilings and excellent use of light and space. The location makes the very best of the panoramic views of Morzine from the large balconies or decked patios – from sunrise through to dusk.
With onsite fitness and wellbeing facilities, L'Aiglon are the perfect self-catered apartments in Morzine to unwind and relax. We have a sauna as well as two onsite specialist companies who can offer specific treatments, including massage and physiotherapy. L'Aiglon's central location means that the Super Morzine cablecar, supermarket and local restaurants and bar are never more than 5 minutes walk from the apartments.
Our aim is to ensure that you have the best holiday possible in the best accommodation in Morzine. Our attentive staff are available to assist you with local arrangements, queries or any help you might need.
2 Bedroom
4-6 Guests
2 bedrooms, 4 single beds, 1 sofa bed
Private terrace
1 Bedroom
2-4 Guests
1 bedroom, 2 single beds, 1 sofa bed
2 Bedroom + Cabin
5-7 Guests
2 bedrooms, 4 single beds, 1 sofa bed
1 cabin area, 1 single bed
2 Bedroom
4-6 Guests
2 bedrooms, 4 single beds, 1 sofa bed
15% Discount
Voucher is valid for stays from
1st August - 31st August 2019
Minimum stay 4 nights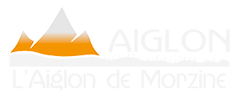 Getting here


One of the main benefits of Morzine is its location. Whether your preference is to travel by car, train or airplane, transfers to Morzine couldn't be easier.
As a couple we liked nothing more than spending our main summer holiday laying on a beach somewhere hot reading and relaxing. We were active but a few water sports, a bike ride or a walk were enough. It was never even on our radar to go to the mountains for a family...
read more
"Really nice apartment with all the things you might need for a self catering stay. Comfortable beds, nice hot showers, close to a supermarket and plenty of local restaurants. We would most certainly book to stay here again."
September 2018 – UpFront Reviews