I travelled to Morzine this Spring for the 10th year in a row, I guess you could say I have the "Morzine bug".
One of the things I love most about Morzine is that it never gets old, there's always an array of events to attend and activities to take part in. In Winter there's night skiing, firework displays, free concerts and my most recent discovery; Husky Sledding. A great option for skiers, non-skiers and everyone in between.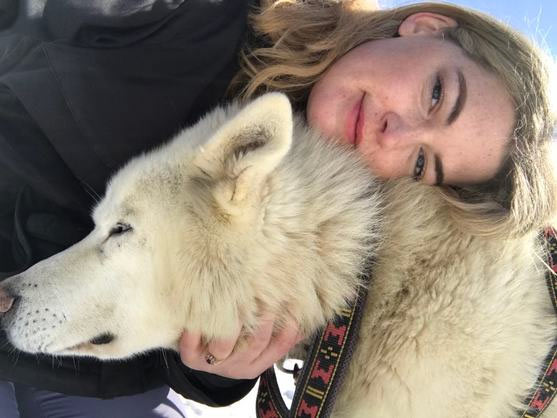 The Husky Ride
Here's what to expect on the day:
Arrival- The meeting point is accessible by car or by skiing and is located just beyond the Avoriaz Heli-pad. Your first task is to bond with the sled dogs and to place their harnesses on them. This job is pretty hands on, just so you are prepared! The sled dogs are giant softies and just want to be patted. They're adorable! They do bark a lot, but they do not bite.
​​Instructions- When the sled dogs are ready, it's time to pay close attention to the instructors. Husky sledding is a lot more technical than you think! The dogs have their own personalities and traits that need to be considered.
Away you go– Keep your foot on the brake because these dogs love running! Take in the breathtaking scenery, venture off piste and get into the swing of things on your sled. The dogs sled will take you down the mountain, and then you'll need to walk back up with them, so wear shoes suitable for snow!
Remember, these dogs are French; Stop = Arrêtez and go = Aller! 
Relax– Once you're back at the meeting point, give yourself a pat on the back. According to my iPhone, the walk back up the mountain equates to climbing 29 flights of stairs! It's time to take the harnesses off the dogs and spend a last couple of minutes with them taking pictures and patting them.
There's a café right beside the meeting point, I recommend popping in afterwards to wash your hands and grab yourself a well-deserved Baileys Hot Chocolate!
Experience an amazing dog sledding adventure in the amazing French-Alps, is something not to be missed! To take part in this completely unique husky experience, you need to book in advance through Morznet.com. The 3-hour trip costs €90 and in my opinion, is worth every penny!
​
Have you already lived a similar husky sledding experience? I would like to hear it about it in the comments!