Velovation offer a number of options, and we can also organise road bike hire from another of our partners, Alpine Sports.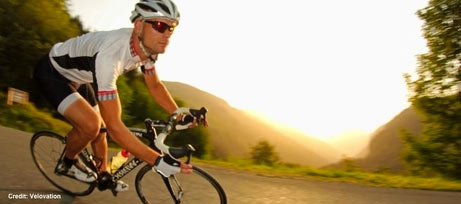 Fully Supported Day Tours
We can organise point to point rides, for example Morzine to Chamonix or Morzine to Annecy. Support is provided by Velovation's driver and minibus, fully fitted out for carrying bikes along with a wide range of spares and any extra clothing or equipment you may want to bring with you. A picnic lunch can be provided, with refreshments along the route. The minibus is never more than a few minutes away at any point during the day giving constant access to extra clothes and refreshments whenever needed.
On bike support is provided by Velovation staff, who are also fully qualified bike mechanics and have over ten years of riding experience in the Alps.
​
These rides allow you to travel significantly further than a local loop giving you the best chance to see what the Alps have to offer and easy accesses to many famous Tour de France climbs.
Unsupported Day Tours – Point to Point
Riding the same routes as the fully supported rides but without the minibus support. Accompanied by Velovation, you will stop for lunch at a restaurant along the route (not included) and the odd coffee or two if required. The minibus will meet you at the end of the ride for the return journey to Morzine. There are also many routes that work in reverse with the minibus dropping you off in the morning leaving you to ride back to Morzine.
Local Loops
Ride some of the excellent local loops with Velovation. Start in Morzine end in Morzine via as many cols as you think you can handle!
To enquire about cycling holidays in Morzine, please add the option to your booking. We will then make contact with you to discuss the options, dates and other information, and then make the necessary arrangements for you.
Road Bike Package Deals
By popular demand, we have created a packaged deal for guided road bike holidays in Morzine. This gives you a fabulous way to explore the area, and the added benefit of staying in our wonderful apartments. The package is as follows:
€550 per person based on 6 sharing a 3-bedroom apartment (€150 single person supplement)
4 night's accommodation in Aiglon
Choice of arrival date (subject to availability)
Return transfers from/to Geneva airport
Evening meals on each night (max 4) at local restaurants and in apartment
An experienced and qualified guide for 3 days
Packed lunches on 3 days (sandwich, drink and fruit/chocolate bar)
Breakfast in room on 4 mornings (tea, coffee, orange juice, bread, jam, pastries)
Meet & Greet at L'Aiglon for details on itinerary
Simply fill in the enquiry form on this page, and we'll be back in contact with further information.
Road Bike Package Enquiry
"We stayed at the Aiglon & found it to be a fab apartment with an excellent location for both the town & the lifts.
Will definitely be back."
April 2019 – UpFront Reviews