Only 5 minutes walk to the Super Morzine cablecar
Secure bike lockup, repair and wash station
Onsite fitness and wellbeing facilities
Large groups are welcome
L'Aiglon de Morzine apartments have been a favourite destination for both winter and summer holidays for almost 10 years. In 2009, the apartment owners made the exciting decision to take their love for Morzine and combine it with their business and local expertise, to form their own management company. And so Aiglon Morzine Ltd was born.
​Ever since, the team behind Aiglon Morzine Ltd – Steve Warner, Maria Priestley, Joanna Yellowlees-Bound and Kevin Porter – have put passion and dedication into providing the best experience for each and every guest that stays in the apartments.
Aiglon Morzine Ltd is past its tenth year of operation and the feedback from our guests is fantastic. As this is more than just a business to us, we take every step and make every possible effort to ensure that all of our guests have the holiday of their dreams. Throughout our first winter season we gained as much feedback as possible, and have made further changes to ensure that both returning guests and new guests get the apartment they expect – a home-from-home.
In an age of cost-cutting, we have taken the opposite approach and have invested significantly in L'Aiglon. We want you to experience the L'Aiglon difference, and we would love to welcome you back year after year.
Our future success is dependent on your enjoyment – which is why we will do whatever it takes to make it happen.
We understand that sometimes you need to ask some questions before you go ahead and book. So, we have a booking enquiry form that you can complete – simply click here and we'll give you all the information you need. We will be happy to answer your questions.
481 route de la plagne, 74110 Morzine, France
+33 6 82 05 8112
We are delighted to provide these amazing products in our guests' welcome packs!
Kind to you and the environment
BeeKind products don't contain parabens, phthalates, or artificial colors. They are naturally derived, healthful products that help to support the honeybee and sustainable pollination research.
The fragrance refreshes you with the sparkling freshness of juicy limes, California lemons, and crisp green apples, all intermingled with notes of cool verbena. With honey and certified organic extracts of red clover, calendula, lemongrass, and chamomile, this high-performance collection is as soothing as it is stylish.
Less Waste
​We have chosen to provide our guest amenities in paper bottles, a packaging innovation that reduces material weight by 59% and a 92% reduction in waste space compared to rigid plastic bottles, as well as in 100% recyclable tubes.
Delight in the rich rewards of feeling good and doing good.
​A portion of profits from BeeKind help support the Harry H. Laidlaw Jr. Honey Bee Research Facility at the University of California, Davis.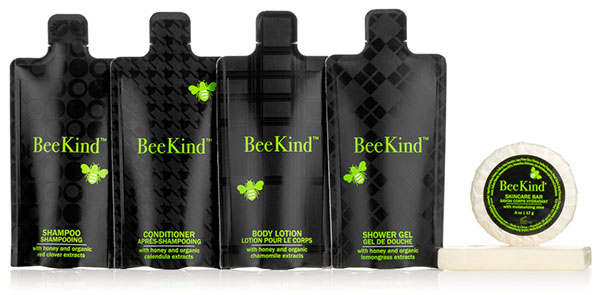 Discounts in 2020
Save €100's with your New Years Booking!
January: 4 night Special offers
Febuary: 6 night Special Offers
"Very nice staff, well-equipped apartment! Situated close to Skilift and supermarket.
I will for certain book the apartment again."
March 2019 – UpFront Reviews