3 Bedroom Plus Cabin Morzine Self Catered Apartment
Our 3-bedroom plus cabin self catered apartment in Morzine comfortably sleep six people in the three bedrooms, one person in the single bed in the cabin area, with the added flexibility of a double sofabed that provides for two extra occupants. All bedrooms have en-suite facilities. The cabin is not a separate bedroom, but an open bedroom area, usually off the hallway. The duplex layouts of the apartments vary.
Fully-equipped kitchens make self-catering a reality, although there are plenty of restaurants within easy walking distance. And our daily patisserie delivery service gives you the option of having lovely fresh-baked croissants, bread and other pastries delivered each morning. A great start to any day!
​A comfortable and spacious living area with Samsung TV's and Bose sound bar / bluetooth speakers will keep everyone entertained when you're not out enjoying the fabulous mountains all around Morzine.
Morzine Self Catered Apartment Services
We are delighted to provide these amazing products in our guests' welcome packs!
Kind to you and the environment
BeeKind products don't contain parabens, phthalates, or artificial colors. They are naturally derived, healthful products that help to support the honeybee and sustainable pollination research.
The fragrance refreshes you with the sparkling freshness of juicy limes, California lemons, and crisp green apples, all intermingled with notes of cool verbena. With honey and certified organic extracts of red clover, calendula, lemongrass, and chamomile, this high-performance collection is as soothing as it is stylish.
Less Waste
​We have chosen to provide our guest amenities in paper bottles, a packaging innovation that reduces material weight by 59% and a 92% reduction in waste space compared to rigid plastic bottles, as well as in 100% recyclable tubes.
Delight in the rich rewards of feeling good and doing good.
​A portion of profits from BeeKind help support the Harry H. Laidlaw Jr. Honey Bee Research Facility at the University of California, Davis.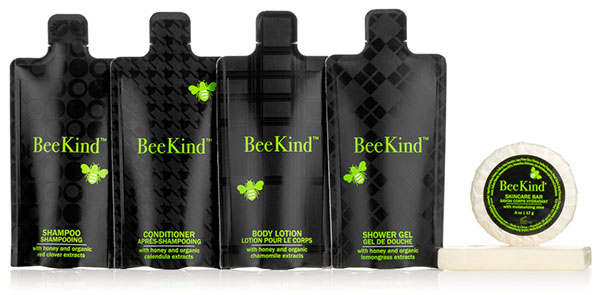 Discounts in 2020
Save €100's with your New Years Booking!
January: 4 night Special offers
Febuary: 6 night Special Offers
"Really nice apartment with all the things you might need for a self catering stay. Comfortable beds, nice hot showers, close to a supermarket and plenty of local restaurants. We would most certainly book to stay here again."
September 2018 – UpFront Reviews